Cultural exchanges
014-2018-2022 for young aikidokas SWITZERLAND-JAPAN
Approach education in a completely different way by immersing yourself in Japanese culture, feeling, touching, seeing and experiencing cultural differences in order to increase awareness and acceptance of our differences and similarities. This is the primary goal of our huge travel plans to Japan for Aikidoka children from Switzerland.
It was in 2014, during the jubilee of 150 years of diplomatic relations between Switzerland and Japan, that the Neuchâtel Dojo, with Dr Sonja Graf as project leader and the investment of several dojo coaches, organized a such exchange for children between 10 and 16 years old. These little samurais from Switzerland have become ambassadors of sameness in a world of differences.
A 2 week trip to the land of the rising sun, without their parents ?.
Highlights of the trips: deepening the learning of Aikido, basic notions of the Japanese language, visit to must-see places, such as Toyko, Kyoto, Hiroshima, Miyajima, as well as the birthplaces of Aikido like Ayabe. Meeting with the Oomoto center, a branch of Japanese Shinto having had a great influence on the pacifist philosophy of Aikido and guardian of traditional Japanese arts (calligraphy, tea ceremony, ikebana,…). In 2018 there were overnight stays with Japanese host families in Shinshiro, the twin city of Neuchâtel in Japan. At the same time, you have to know how to eat with chopsticks, purify yourself before entering a temple, …, so many experiences that children have in these two weeks.
The project was carried out in 2014 and 2018. The next edition is scheduled for 2022.
A big thank you to all the sponsors who helped these children make their dreams come true!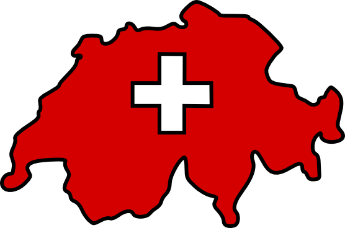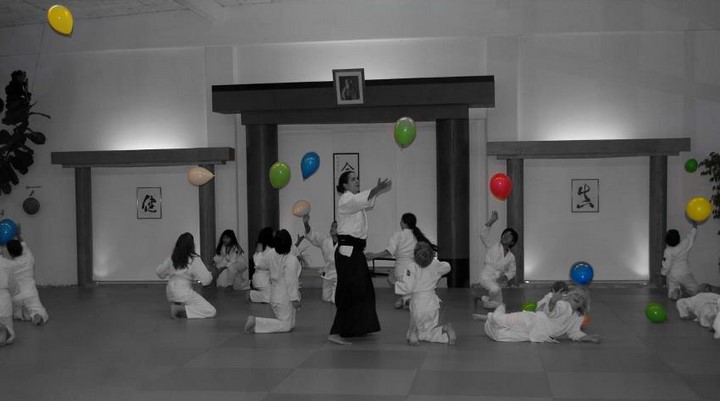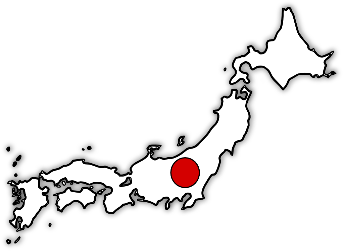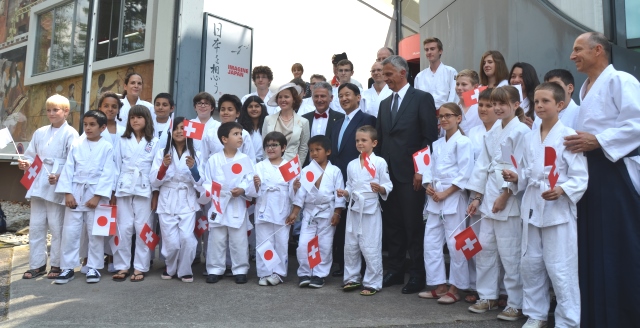 Photo: June 19, 2014, at the Museum of Ethnography in Neuchâtel, children participating in the trip with the four monitors, and, in the center, from left to right, Mrs. Burkhalter, Mr. Thomas Fachinetti Vice-President Ciry of Neuchâtel, the Crown Prince from Japan Naruhito (now the Emperor), Mr. Didier Burkhalter President of the Swiss Confederation.
April 29, 2015, Sonja & Eric Graf, domiciled in Peseux, as managers of the Neuchâtel Dojo and of the project receive the prize for cultural and sporting merit from the municipality of Peseux.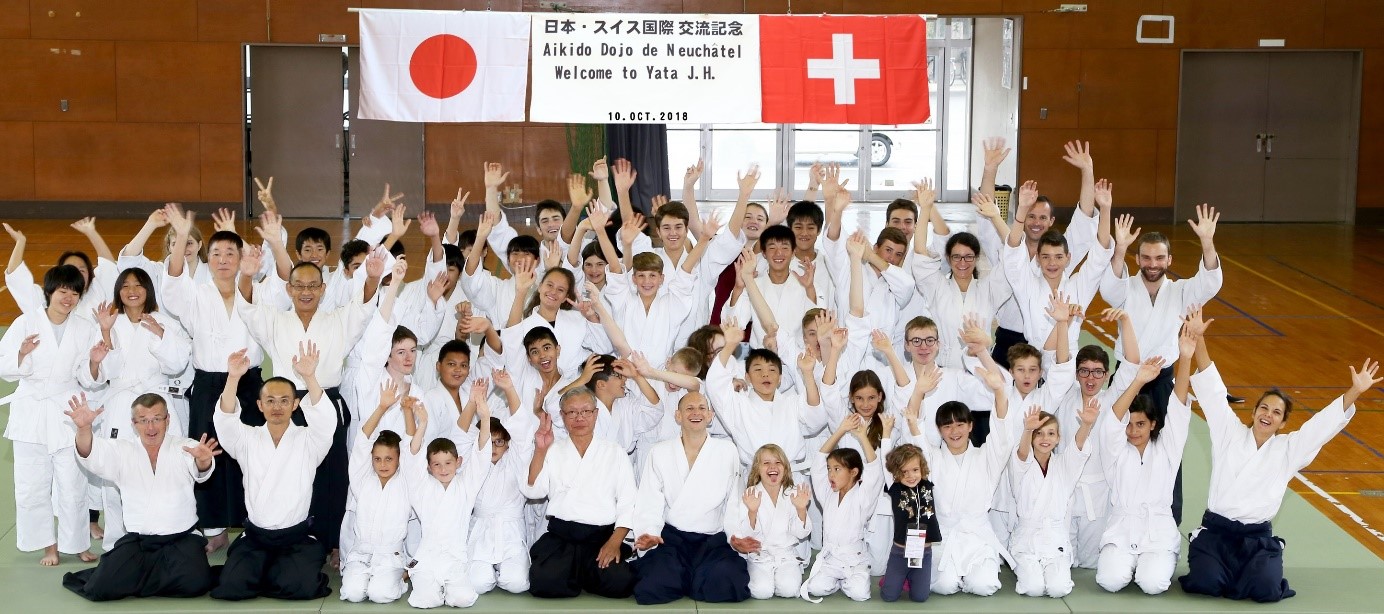 October 10, 2018, our team after training in Ayabe with the Japanese colleagues.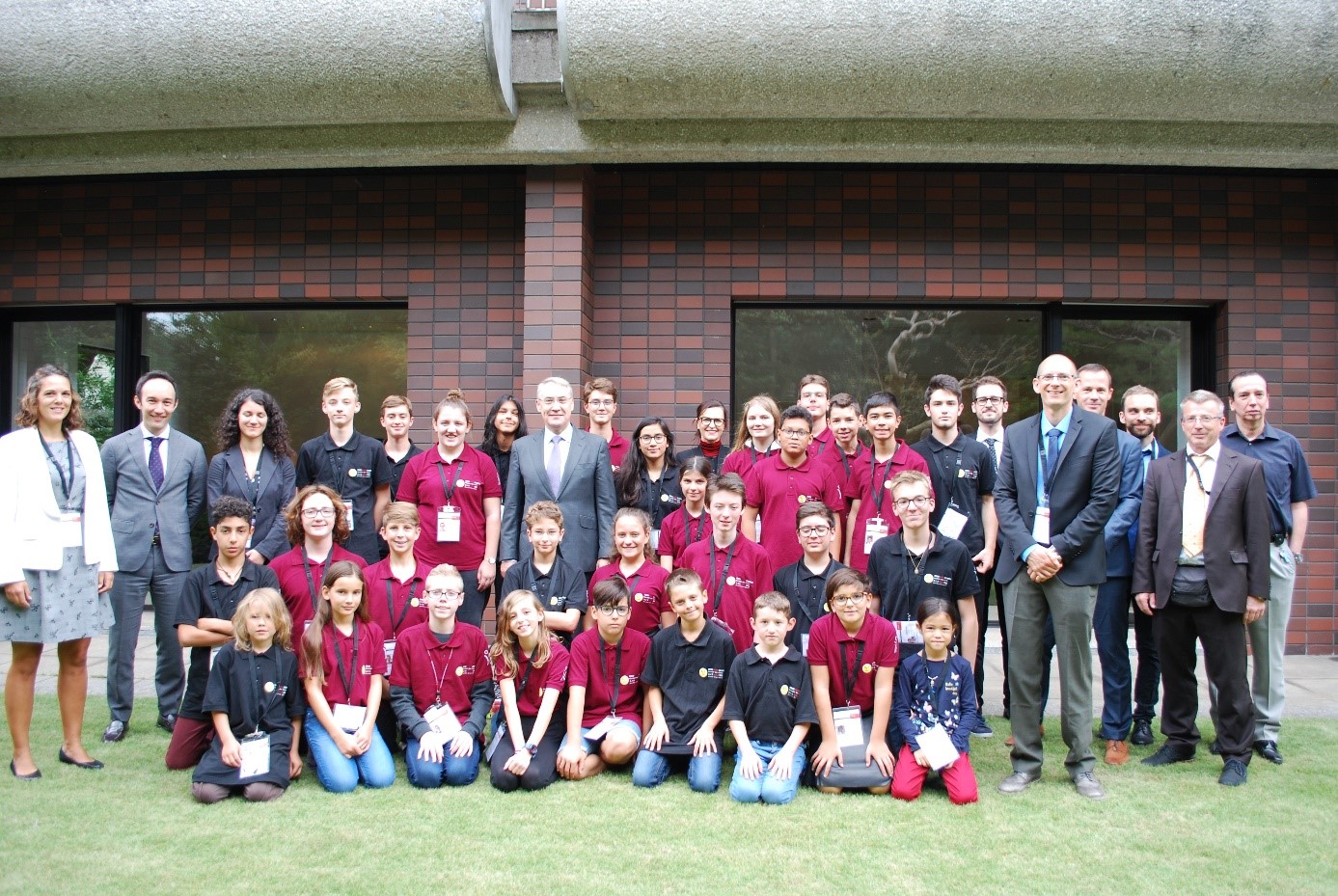 October 19, 2018, visit of the Swiss Embassy in Tokyo in the presence of the Swiss Ambassador to Japan and his team.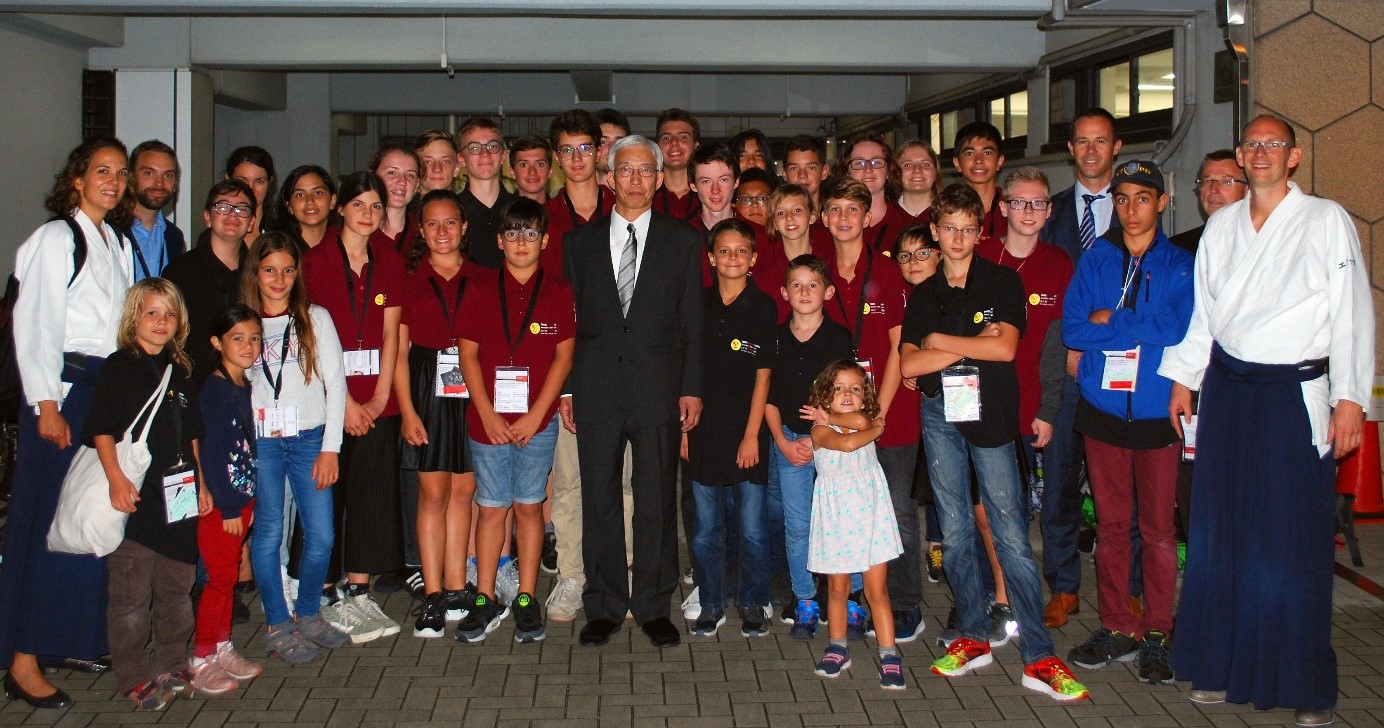 October 19, 2018, with Aikido Doshu, Moriteru Ueshiba, grandson of the founder, after training at the Hombu Dojo in Tokyo.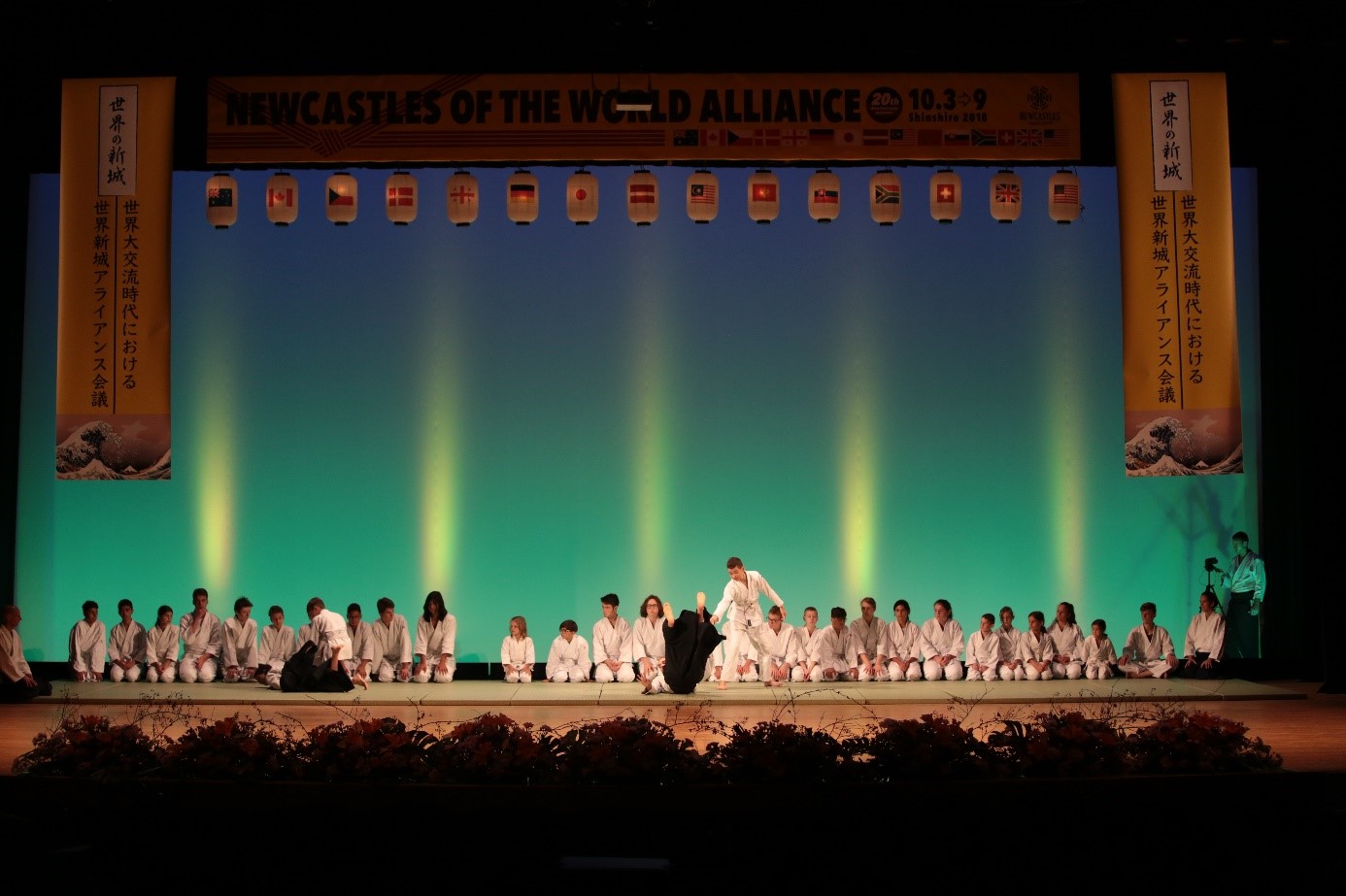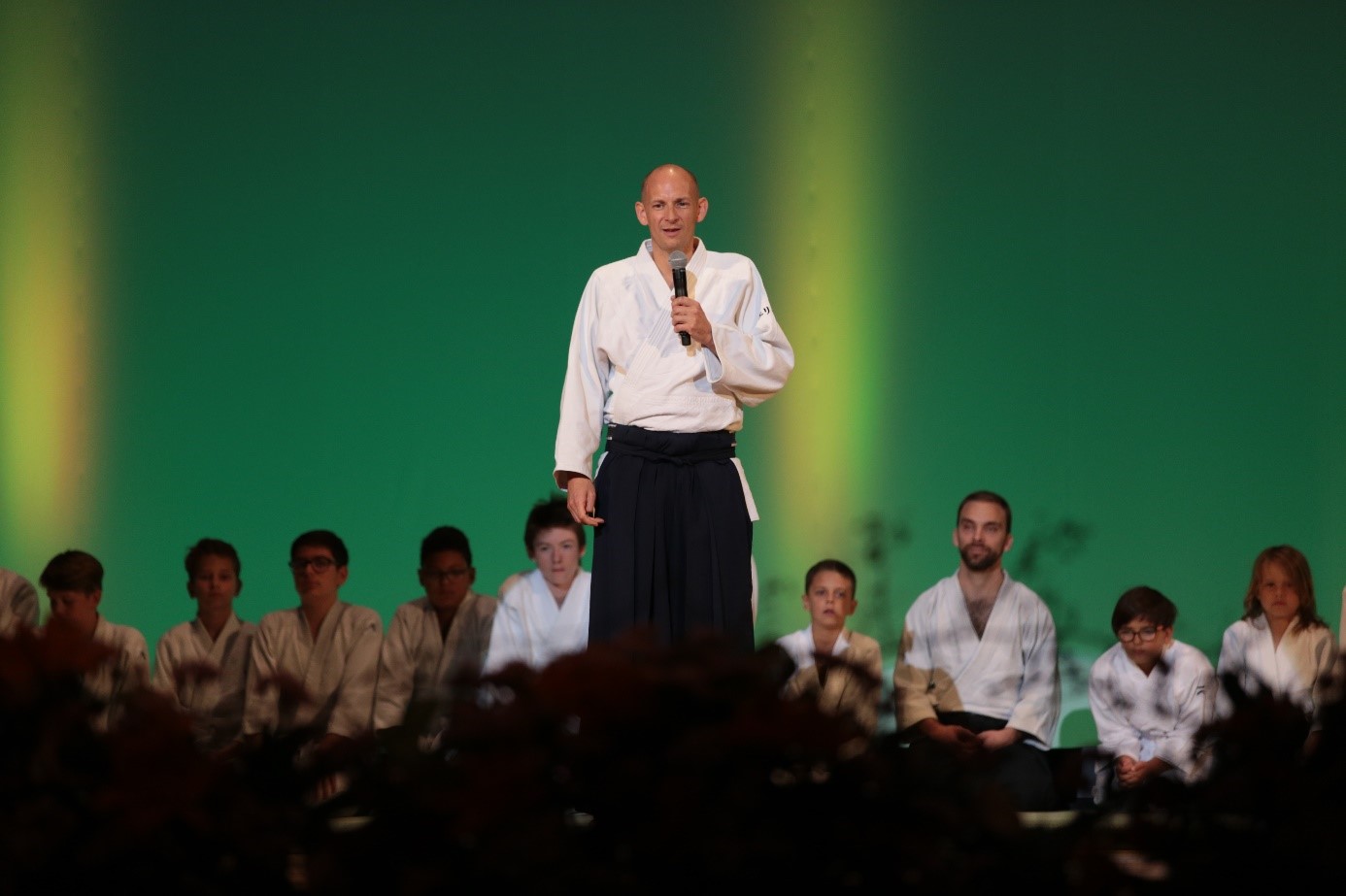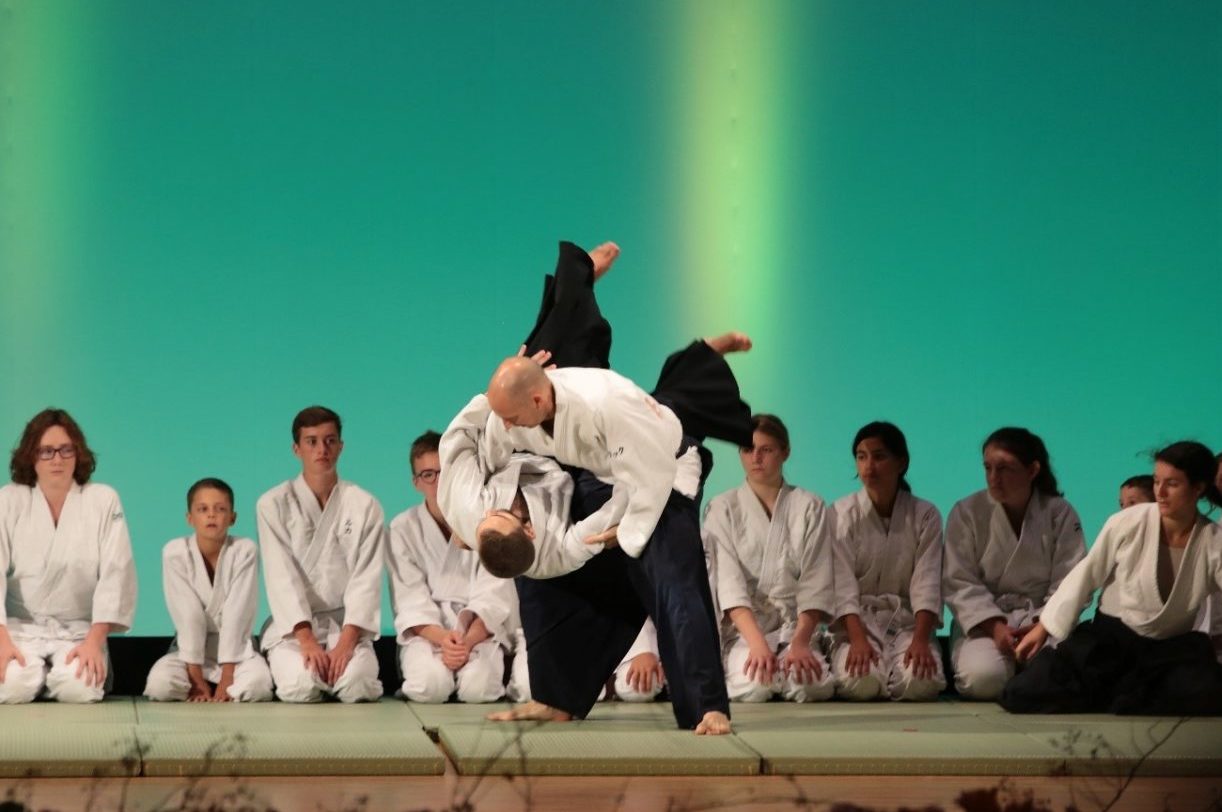 October 2018, Aikido demonstration by our team in Shinshiro in front of 200 spectators, in the presence of the official Neuchâtel delegation visiting Shinshiro, the Mayor of Shinshiro and the Swiss Ambassador to Japan.